Regular price
Sale price
$15.95 USD
Unit price
per
Sale
Sold out
This whipped body butter is quite unique!
The Red side smells like cinnamon while the white side smells like vanilla! Mix them together for the perfect scent!
No greasy feeling

Packed with moisture

Whipped, airy texture

Gives skin glowing finish

Perfect for soothing dry skin

Vegan & Cruelty Free

contains approximately 4oz of product

art: emilia Rosa
Ingredients: Shea Butter, Mango Butter, Almond Oil, Avocado Oil, Coconut Oil, Tapioca Starch, Skin Safe Mica and Fragrance Oil.
View full details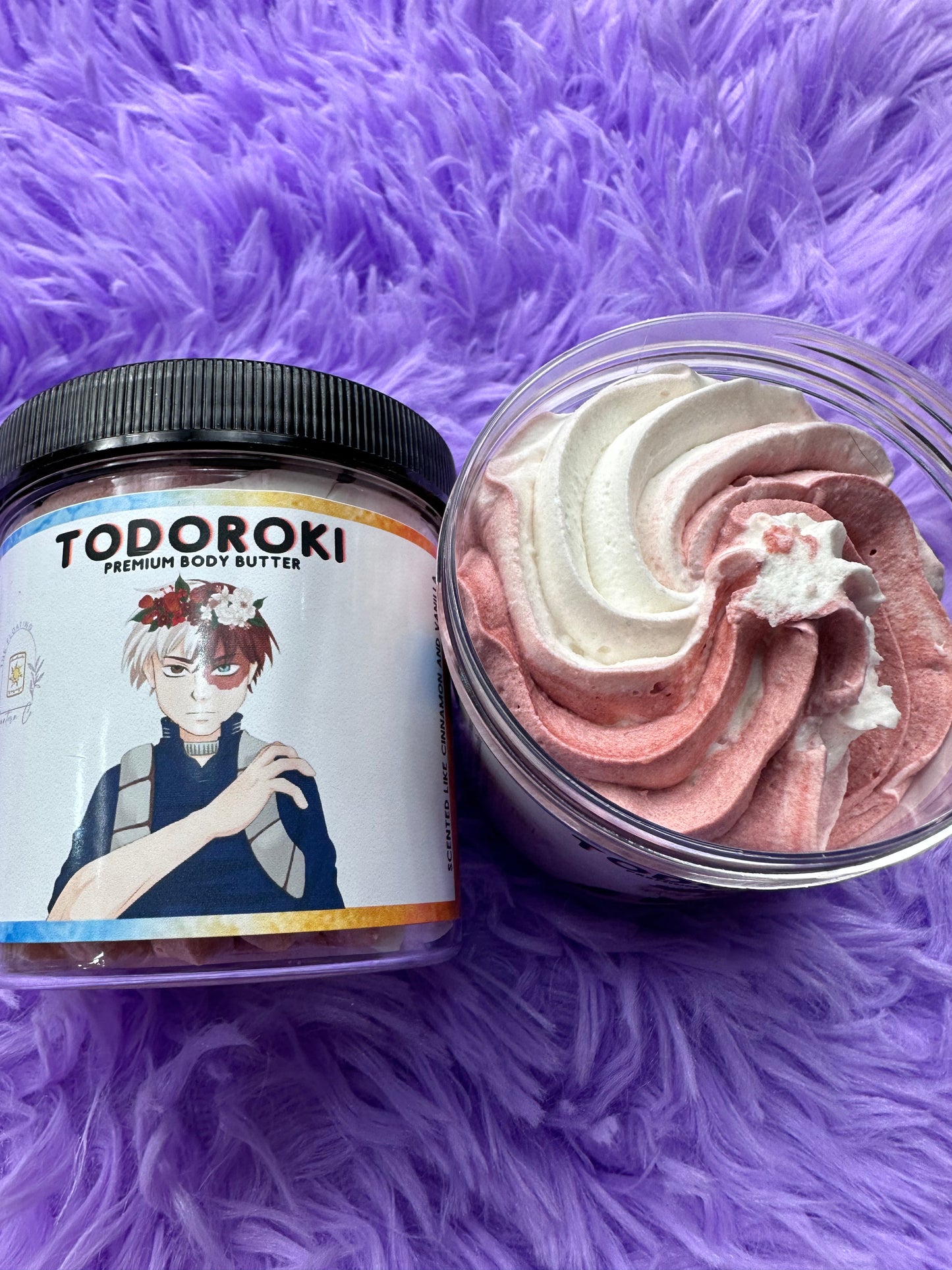 Awesome!
So I will be honest I was skeptical at first, I normal stray away from cinnamon scents because they are to strong and very artificial smelling most times. And I had actually got this as a sample with a different body butter I order. I was curious so I tried it out and it honestly became my favorite scent of all time(I never knew I'd be a fan of gourmand scents lol). And it also made my skin feel so soft and I smelled good for hours, and its not super strong either which I loved. I definitely recommend.
Icy Hot!!
I'm so glad that this shop did not pick a peppermint scent for Todoroki as others do. I hate the fact that just because he's half white half red people assume that automatically smells like peppermint which I'm not a fan of. But I am a fan of this cinnamon and vanilla scent. I don't know why but I get a frappuccino vibe from this scent.
Love it, but—
Obviously, I love this butter. It smells amazing and the formula is fantastic; mine did come swirled and not separated, but it's not really an issue for me. The only sort of thing I want to touch on is less a buyer beware and more a buyer be Aware: the fragrance oils in this butter smell sick af, like it's amazing, BUT if you have any issues with temperature regulation/recognition, anxiety around skin issues, or sensitive skin at all, consider a different product from the shop. The effects of cinnamon oil aren't super common knowledge or could just be forgotten because again it smells great (guilty, I am guilty) and if you are a person with those sensory/anxiety issues it could be triggering, because it does warm the skin similar to a lineament (not muscle deep at all, just surface level, but that warm/numbing feeling is there and could be upsetting or a turn-off). It's an anxiety thing for me, so unfortunately I don't use this butter as much as I would like to, but if you're unbothered by that or you really dig it, the formula is again superb and the scent is really amazing.
(Bought 3/18/22, forgetful as hell)
Smells Really Good:)
I had received a sample of this body butter when i bought the mystery sample pack a few months ago and really liked the smell. It reminds me of those pinecones you can buy during christmas! I also liked how smooth it made my skin feel. This one is probably one of my favorites I definitely recommend buying it even if you don't watch mha
This smells so darn good. Sweet and spicey and just perfect. I layer it with my billie eilish perfume and it pairs wonderfully. The body butter is great and absorbs quickly into the skin. If you like spicy gourmand smells, this one's for you!