Regular price
Sale price
$15.95 USD
Unit price
per
Sale
Sold out
This whipped body butter smells like White grapefruit, petitgrain, tangerine, bamboo and juniper berries! It's super floraly and citrusy! 
Perfect for floral lovers!
Packed with moisture

Whipped, airy texture

Gives skin glowing finish

Perfect for soothing dry skin

Vegan & Cruelty Free

contains approximately 4oz of product

 
Ingredients: Shea Butter, Mango Butter, Almond Oil, Avocado Oil, Coconut Oil, Tapioca Starch, Skin Safe Mica and Fragrance Oil.
View full details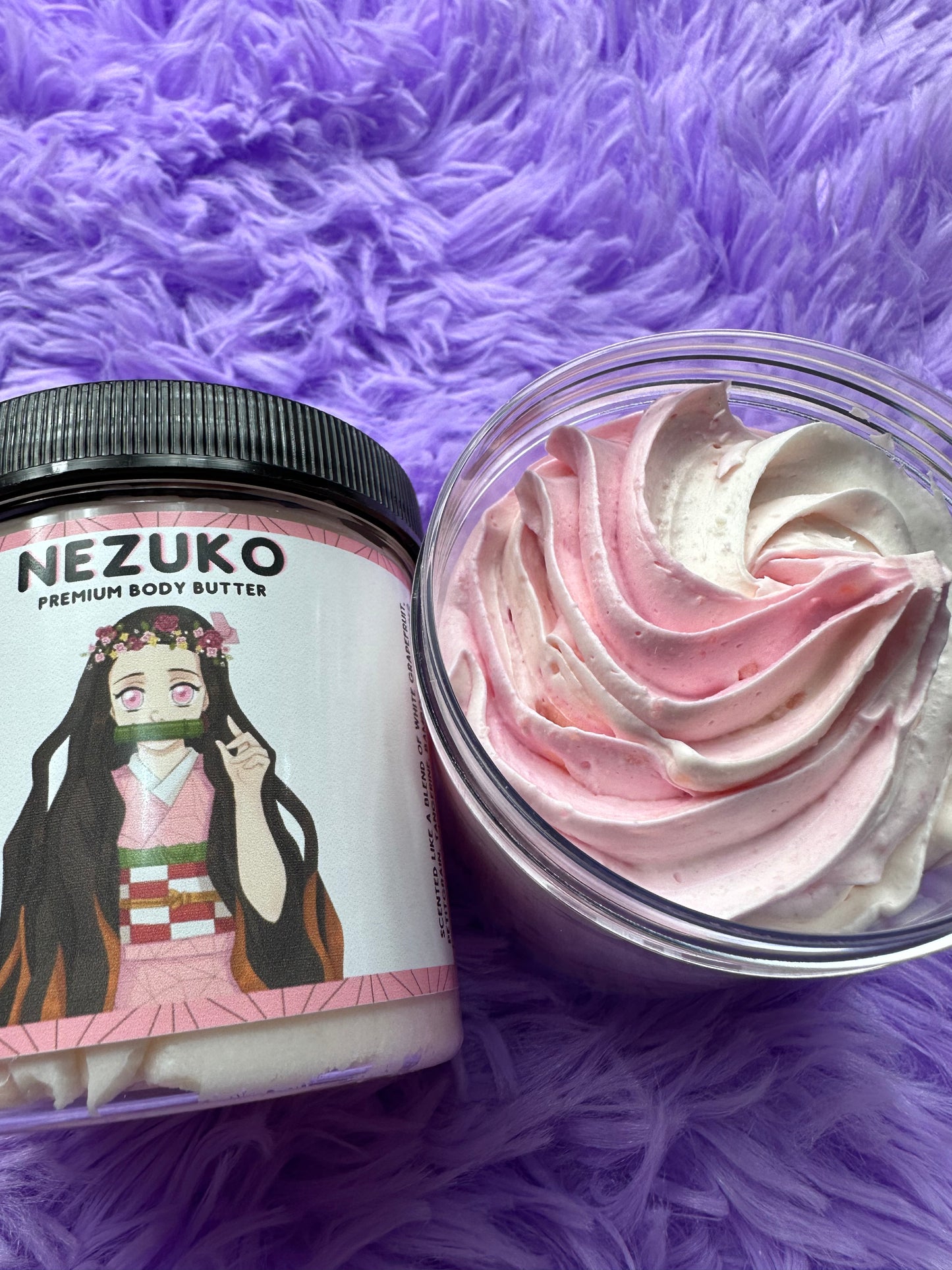 Amazing Scent
I really enjoy Nezukos profile, it's floral with a zesty twang! It's really good for anyone who takes morning showers. The citrus notes really help wake me up in the mornings!
I have been a long standing member in the Ashy Legs club and this shop has both informed me and saved my skin! Not only is this shop saving my skin, but also making it so much more enjoyable with the character profiles!
Love it!
This is perfect it is one of the best smelling and feeling body butter I have ever used!!!
Love it
It's smells so pretty!!!! I feel like a flower when I use it ☺️
Absolutely happy and love!
I have been watching this seller on TikTok for a while and finally decided what my first body butter I should get. The Nezuko body butter smelled amazing, definitely can catch the bamboo scent in it! It was soft and smooth, easy to scoop out and DEFINITELY a little goes a super long ways. I put it on at night before bed and I still woke up with moisturized and soft skin! I don't feel the itchy dryness and the scent is very settle. Compared to a store bought body butter I used before, The Floating Lantern Co. is definitely way more preferred as I didn't have any need to reapply.
Thank you so much!!!
Love it!
On a Monday I noticed my legs looked really dry despite having just put regular lotion on them. I put this body butter on every day for the whole week and on Friday my legs were much softer and smoother. This body butter is very moisturizing, doesn't leave a greasy layer, and a little bit goes a long way. The ingredients list is also very appealing. There is nothing unnecessary added to the product like preservatives, it's only what's necessary for your skin and enjoyment: butters and oils for nourishment and repair, fragrance, and color. This is unlike many other body butters/lotions that I have seen in big box stores or even in other small businesses, hence one of my reasons for purchasing. I didn't feel the need to include a picture because the product arrived exactly as displayed on the website and social media accounts.
Even though I applied more than directed from chin to heels (I'm a 5'11'' female) for a week I only used about 1/4 of the container. This is another reason why I purchased this product from this company: you get a lot of bang for your buck. And I smelled great! I love the creativity with this scent having notes of bamboo, in line with Nezuko's bamboo muzzle. The color is very pretty and doesn't stain the skin as long as you rub it in completely. I plan to purchase more in the future!