Regular price
Sale price
$15.95 USD
Unit price
per
Sale
Sold out
This whipped body butter smells like a blend of yellow dragon fruit, Papaya juice, pear, lemon verbena, dewy moss, and earthy clay
No greasy feeling

Packed with moisture

Whipped, airy texture

Gives skin glowing finish

Perfect for soothing dry skin

Vegan & Cruelty Free

art: emilia Rosa

contains approximately 4oz of product
Ingredients: Shea Butter, Mango Butter, Almond Oil, Avocado Oil, Coconut Oil, Tapioca Starch, Skin Safe Mica and Fragrance Oil.
View full details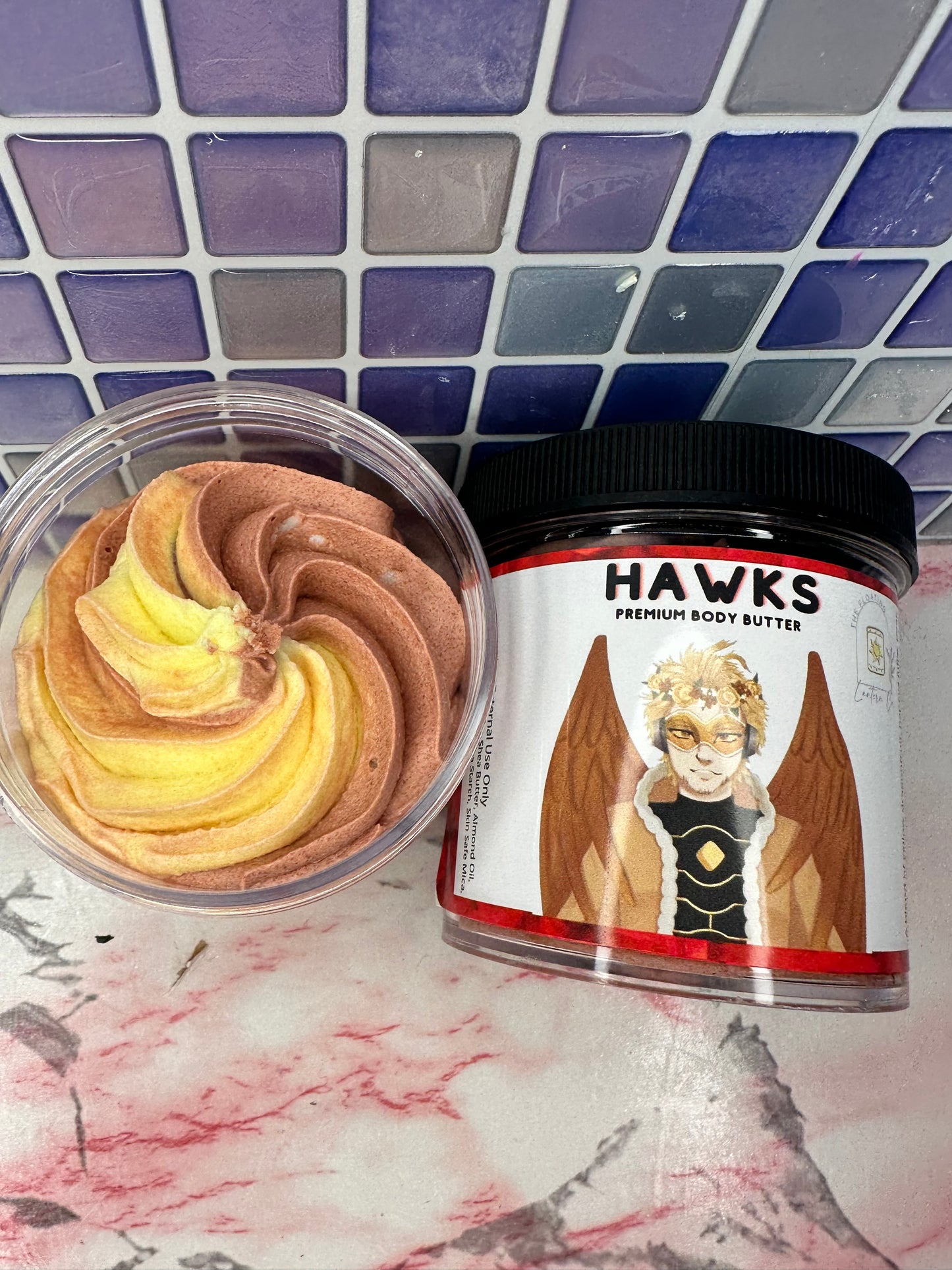 Heaven
After I got the Hawks little gift sample in my first order I HAD to order. I also took a bit with a little dabi and mixed them together after I tested both last time. Definitely heaven
best body butter
I love this body butter I have ever used. I have Eczema and it has destroyed my legs so bad and to this day I hate showing my legs to even my family and this body butter is the only kind of lotion (and body butter). I got is because I love Hawks and I follow on tic tok and have always wanted to buy from here, in no way did i ever think this would do anything to help me due to my countless disappointed from big name brands that SAY it is FOR ECZEMA and when I saw my legs looking good for the first time in YEARS I was really about to cry; ever since I got eczema my confidence went down further then hell itself (i would wear sweatpants in the meddle of summer at the beach) so seeing my legs so clear form scratch holes and and sacbes I was on the verge of crying i was so happy I ACUALLY WANTED to see my legs. THANK YOU SOOOO MUCH. I WILL BE buying a lot more.
Amazing smell!
Got this in my first order and I was not disappointed! Very tropical and pineapple-y, and the fragrance hasn't irritated my sensitive skin so far. Highly recommend if you love tropical fruit scents. Personally, I'd love if this scent were made into a shimmery body oil at some point (I'm very much a glitter person lol). Will definitely be buying more in the future!
🐥Hawks the beloved🐥
I love fruity scents (and hawks) and this is absolutely perfect!!!! It also really smells like pineapple or just tropical in general i love it!!! It glides on the skin beautifully!!!💖💖💖
Great smell
I purchased this as a first time user and I was super skeptical about the scent since I was going in blind but I love it!!! It smells like a fresh juicy pineapple!!! Will for sure be buying from them again!!